Tom Arleth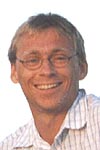 MSc. E.E. and Ph.D. from:
Profile:
Tom Arleth received a M.Sc. degree in 1995 at Aalborg University, Laboratory of Image Analysis. On August 1st, 1995, Tom started his Ph.D. project on modeling the blood glucose level for diabetics performing exercise. During the years the projec changed into a project of:
OPTIMISATION AND TEST OF A DIABETES INSULIN ADVISORY SYSTEM.
---
My supervisor was: Steen Andreassen.
---
More information about me (address & birthday) is available.
---
[MI Home]
[SMI Home]
[Education]
[Staff]
[Department Home]
[Institute Home]
[Campus Home]
[Denmark Home]
---
Last modified: Thu Nov 3 10:57 2005

arleth@miba.auc.dk